These steps will allow you to add a Khoury printer and print from macOS.
Browse for the desired printer
Head to https://print.ccs.neu.edu:631/printers/ to browse the list of available printers.
Click on the desired printer name and note the name and url. For the purposes of this document we will use the printer name Reliable at https://print.ccs.neu.edu:631/printers/reliable.
Install a Printer
Open up Printers & Scanners from your System Preferences menu and click the "+" button.
Click the "IP" Tab from the top row.
Change the protocol to Internet Printing Protocol - IPP
Set the address to print.ccs.neu.edu:443.
The Queue name will be whatever the printer you want print to is appended to printers/. In the case of reliable, it would be printers/reliable.
Set the Name field to the name of the printer you are adding, in this case, reliable.
Click the Use: box as circled to bring up the driver options.
Click on Select software... from the combo box.
Search for the HP LaserJet Series PCL 4/5 printer software. Click to select the software and hit OK to close the dialog box.
Click Add to add the printer to your system.
You will be prompted to select printer options - check the box for Duplexer and hit OK.
If all went well, the printer should be listed and ready to print.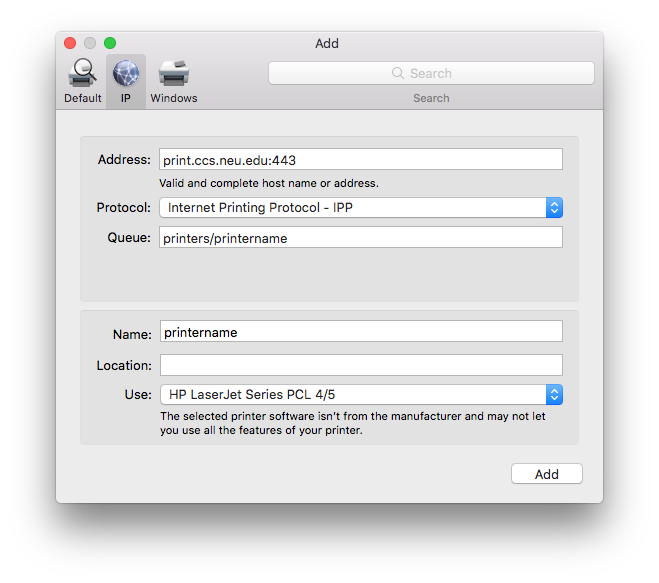 Video Walkthrough